Emiliano Mercado del Toro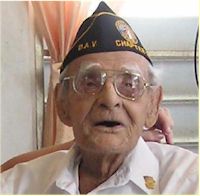 Date of birth: 21 August 1891
Date of death: 24 January 2007
Lifetime duration: 115 years, 156 days

Emiliano was born the son of Delfin Mercado and Gumercinda del Toro. Emiliano worked in the cane fields until the age of 81. He never married and never had children, but said he had three "girlfriends" in his life. Emiliano became the oldest man in the world, with documents supplied so far including a birth certificate, baptismal certificate, 1910 census record and veteran ID card.

By January 2005 Guinness had accepted Emiliano as the "oldest living man whose age could be fully authenticated. "In addition, as a veteran of World War I, he broke the record for longest-lived veteran of any military force that was set by Mathew Beard, albeit as a non-combat veteran. In 1993 he was honored by U.S. President Bill Clinton with the medal commemorating the 75th anniversary of the signing of the truce that ended World War I. Mercado del Toro, the elder of two siblings, had to move from his familiar Cabo Rojo grounds due to a fall he had in his home when he was 102, which affected his hipbone. His 85 year-old niece took him to live with his relatives.