Bettie Wilson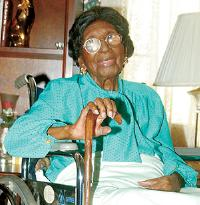 Date of birth: 13 September 1890
Date of death: 13 February 2006
Lifetime duration: 115 years, 153 days

Bettie Wilson was an American supercentenarian who, at the time of her death, was the third-oldest person in the world, behind Maria Capovilla and Elizabeth Bolden. Bettie Antry Rutherford was born on 13 September 1890, in Mississippi, the daughter of slaves, she was the youngest of nine siblings. Growing up, she had little formal education, and taught herself to read and write. She married Rufus Rogers, and the couple had a son before Rufus died. She then married the Rev. Dewey Wilson in 1922, and the couple had 2 children.

In her later years, Ms. Wilson was interviewed by the University of Mississippi and Georgia State University and her recollections are now a part of the oral history archives at the University of Mississippi, Oxford. Ms. Wilson's cane was said to be hand-carved by slaves. She was featured in the 2005 book "Wisdom of the World's Oldest People" by Jerry Friedman. Wilson died from congestive heart failure on 13 February 2006.