Marie-Josephine Gaudette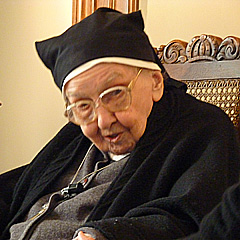 Date of birth: 25 March 1902
Date of death: 13 July 2017
Lifetime duration: 115 years, 110 days

Marie-Josephine Gaudette was an American-born Italian supercentenarian. She is the oldest person ever to have been born in the US state of New Hampshire. Marie-Josephine Clarice was born in Manchester, New Hampshire, United States, on 25 March 1902. She soon decided to become a nun. She lived in Canada and France, where she taught art & music, before settling in a convent in Rome, Italy in 1958.During the 2008 U.S. presidential election, she gained worldwide attention as one of the oldest voters (after a 56 year hiatus) at age 106. She voted for Barack Obama, who eventually ended up winning the election against the Republicans' candidate John McCain.At the time, she was reported to be in good overall shape, other than diminishing hearing ability. She later stated slight discomfort about the increased attention she was getting. At age 110, she was still able to write on a typewriter.