Susie Gibson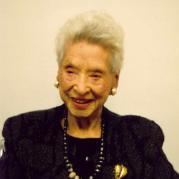 Date of birth: 31 October 1890
Date of death: 16 February 2006
Lifetime duration: 115 years, 108 days

Susan Elizabeth "Susie" Gibson (née Potts; 31 October 1890, claims 1889 – 16 February 2006) was an American supercentenarian and the 3rd oldest person in the world at the time of her death. She currently ranks as one of the 40 oldest people ever. In addition to her age, Susie was in remarkable shape, able to be interviewed by NBC and others and still mentally fit until her final months. Unlike those confined to a nursing home, Susie went out to eat at O'Charley's restaurant regularly, even up to age 115.Susie Potts married James W. Gibson in 1915, and they moved to northwest Alabama, settling in Sheffield, Alabama. He died in 1955, and her only son, James Jr., died in 1987, aged 70. Susie lived on her own until age 104, when she moved into a nursing home in Tuscumbia, Alabama. 10 years later, aged 114, she was one of the world's oldest people. In November 2004, Susie was interviewed, at age 114, and was able to talk more than an hour.