Marie Brémont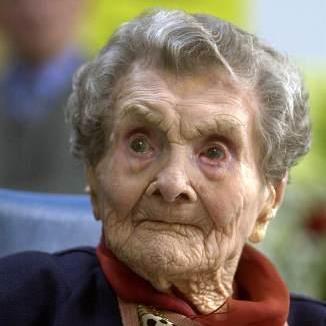 Date of birth: 25 April 1886
Date of death: 6 June 2001
Lifetime duration: 115 years, 42 days

Marie Bremont was a French supercentenarian who became the oldest validated living person upon the death of Eva Morris on 2 November 2000, and held the title until her own death on 6 June 2001. Marie Bremont was born in Noellet, France, on 25 April 1886. Her father was a lumberjack. Her first husband, railroad worker Constant Lemaitre, was killed in the First World War. She married again to a taxi driver, Florentin Bremont, who died in 1967. She had no children. During her life, she worked as a farmer, a nanny, a seamstress and pharmaceutical factory worker.

At the age of 103, Bremont was hit by a car and broke her arm as a result. She lived in a retirement home in Cande, France, during the last years of her life.Bremont died on 6 June 2001 at the age of 115 years, 42 days. Upon her death, the title passed to Maud Farris-Luse of the United States.