Chiyono Hasegawa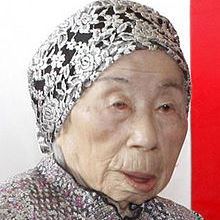 Date of birth: 20 November 1896
Date of death: 2 December 2011
Lifetime duration: 115 years, 12 days

Chiyono Hasegawa was a Japanese supercentenarian. At the time of her death, Hasegawa was one of only 26 people verified to have surpassed a 115th birthday, and the second Japanese person after Tane Ikai. In September 2008 on Senior Citizen's Day, Chiyono Hasegawa, then 111, and her 61-year-old grandson were visited by Governor Furukawa of Saga Prefecture. On 2 May 2010, the day she became the oldest verified living Japanese person, Hasegawa attended a ceremony held at her nursing home which announced her new record.