Charlotte Benkner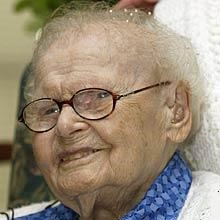 Date of birth: 16 November 1889
Date of death: 14 May 2004
Lifetime duration: 114 Years, 180 Days

Charlotte Amanda Benkner (née Enterlein; 16 November 1889 – 14 May 2004) was a validated German-American supercentenarian and the world's 3rd-oldest living person at the time of her death aged 114 years, 180 days.

Benkner was born Charlotte Amanda Enterlein in Leipzig, Germany, and emigrated to the United States in 1896. On her 1908 marriage to Karl Benkner, she moved west, living in Pennsylvania and Ohio before retiring to Arizona. The couple had no children. Already a supercentenarian and the oldest person in Arizona, Benkner returned to Ohio to live in North Lima. She became the oldest recognized person in the United States when 114-year-old Elena Slough died in October 2003. She lived with her sister Tillie Hare (the youngest of her siblings), whom she once cared for when their parents were running the hotel, until Tillie died, just two weeks short of becoming a centenarian, on 25 January 2004. Benkner survived her sister by only four months, dying at 114 years 180 days after she was briefly hospitalized in Youngstown, Ohio, and was buried in Peekskill, Ohio.