Tae Ito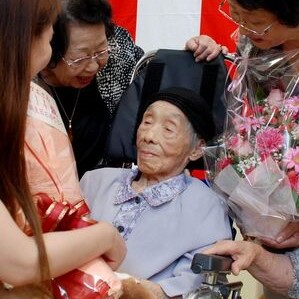 Date of birth: 11 July 1903
Date of death: 13 November 2017
Lifetime Duration: 114 Years, 125 Days

Tae Ito (11 July 1903 – 13 November 2017) was a validated Japanese supercentenarian. She was validated by the Gerontology Research Group on 8 September 2014.

Ito was a native of the former Huenuki District, which is currently part of the city of Hanamaki, Iwate prefecture. She married in 1925 and worked in agriculture all her life until she took her pension at the age of 90. Ito moved to a nursing home at the age of 105. At her 111th birthday, it was reported that she was wheelchair-bound, but enjoyed to read and do origami with her friends. She had 9 children, 16 grand-children, 24 great-grand-children, and four great-great-grand-children. As of her 114th birthday in July 2017, seven of her children were still living. She wasn't able to do origami anymore but was still reading the journal and books without glasses every day. Ito died on 13 November 2017 at the age of 114 years, 125 days.