Yukichi Chuganji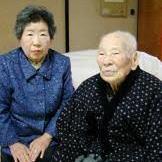 Date of birth: 23 March 1889
Date of death: 28 September 2003
Lifetime duration: 114 years, 189 days

Yukichi Chuganji was a Japanese supercentenarian, who was the world's oldest living person from December 29, 2002 to his death. He became the oldest living man after the death of the 112 years old Antonio Todde on January 3, 2002, coincidentally the same day on which he became Japan's oldest living person. He died at the age of 114 years, 189 days as the third man to reach the age of 114 and the oldest Japanese man ever. Chuganji was born on 23 March 1889, in Chikushino, Fukuoka, Japan. He graduated from a technical school in the early 1900's and worked as a silkworm breeder, instructor in the agricultural specialty, as a bank employee, and community welfare officer. For the last 3 to 4 years, Chuganji was bedridden. He didn't like to eat vegetables, but liked to eat beef and pork. He only consumed alcohol in moderate amounts and drank milk. He had failing eye sight. He died on 28 September 2003 after being served apple juice. He was survived by 1 of his 4 children, 7 grandchildren and 12 great-grandchildren.