Mitoyo Kawate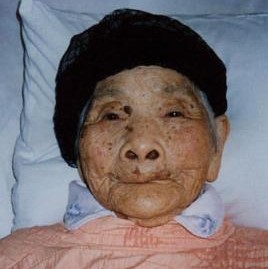 Date of birth: 15 May 1889
Date of death: 13 November 2003
Lifetime duration: 114 years, 182 days

Mitoyo Kawate was a Japanese supercentenarian who became the world's oldest living woman on 29 December 2002 with the death of Mae Harrington and the oldest living person upon the death of Yukichi Chuganji on 28 September 2003. A resident of Hiroshima, she worked on a farm until injuring her hands at the age of 99. In 1945, two days after the Atomic bombing of Hiroshima, she entered Hiroshima city in order to look for acquaintances. She was taken to a hospital shortly before her death from pneumonia. Kawate lived to be 114 years, 182 days. Her 'oldest person' reign lasted only 46 days.