Yone Minagawa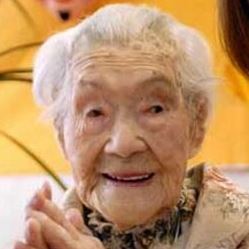 Date of birth: 4 January 1893
Date of death: 13 August 2007
Lifetime duration: 114 Years, 222 Days

Yone Minagawa was a Japanese supercentenarian believed to have been the world's oldest living person from 29 January 2007 until her death of old age, aged 114 years and 221 days.

After her husband died, she raised her five children by selling flowers and vegetables at a coal mine. Minagawa lived alone in the Momochi apartment building in Nishijin Sawara Ward, Fukuoka, near Seinan Gakuin University, until 2005, when she moved to Keijuen, a special nursing home in her native Akaike. Minagawa enjoyed playing the shamisen. Even at 114 she participated in club activities in a wheelchair and "danced" along to music. Minagawa became the oldest living person in Japan when then 114-year-old Ura Koyama died in April 2005. The death of Julie Winnefred Bertrand on 18 January 2007 made her the world's second-oldest woman. With the death of 114-year-old American Emma Tillman on 28 January 2007, Minagawa became the oldest living person in the world.