Carrie Lazenby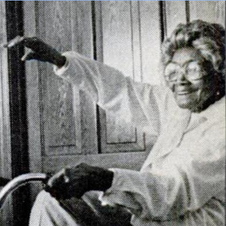 Date of birth: 9 February 1882
Date of death: 4 September 1996
Lifetime duration: 114 Years, 218 Days

Carrie Lazenby was a validated American supercentenarian. She died at age 114 years, 218 days, making her the 45nd oldest person on record (tied with Japanese woman Ura Koyama on April 5, 2005), the sixteenth-oldest American person on record, and the seventh-oldest African American person on record. Lazenby's record as the oldest person ever in Georgia was surpassed by Gertrude Baines, on November 11, 2008.

Carrie Lou was born in Atlanta, Fulton, Georgia as the daughter of George and Agnes Fambro Jenkins on 9 February 1882. She married Burrell Lazenby in Atlanta, Fulton, Georgia on 9 August 1900. The couple had one son, Burrell. The family moved to Illinois around 1920. She lost her son in 1924 and was widowed in 1943. Carrie Lazenby died in Riverdale, Cook, Illinois on 14 September 1996.