Anna Eliza Williams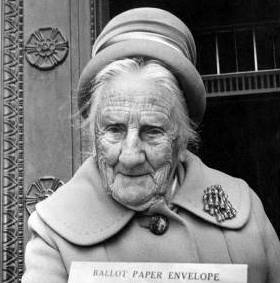 Date of birth: 2 June 1873
Date of death: 27 December 1987
Lifetime duration: 114 Years, 208 Days

Anna Eliza Williams was a British supercentenarian and the oldest person in the world from 2 February 1987 until her own death nearly eleven months later.

Anna Eliza was born at Burford, Shropshire, and died on 27 December 1987 at the Tuxedo Old People's Home, 104 Eaton Crescent, Swansea, Wales, aged 114 years 208 days, having moved to Swansea after her marriage. Her husband - William Henry Williams, a carpenter - died in 1954. Williams attributed her longevity to "a life of idleness", along with "being a non-smoker and eating lots of vegetables". There was also a history of longevity in her family: her mother lived to be 98 and all seven of Williams' siblings lived beyond the age of 80, one surviving to 101. In addition, her daughter Constance Harvey lived to age 107 years, 253 days. Williams broke the British longevity record on 12 July 1985. She died on 27 December 1987 (the cause of death was simply given as "old age" on her death certificate) and her death was registered by her grandson two days later.