Ramona Trinidad Iglesias-Jordan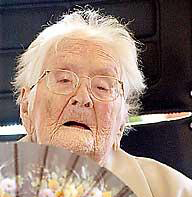 Date of birth: 31 August/1 September 1889
Date of death: 29 May 2004
Lifetime duration: 114 Years, 272 Days

Ramona Trinidad Iglesias-Jordan de Soler (31 August/1 September 1889 – 29 May 2004) held the title of world's oldest living person after the death of Mitoyo Kawate. She died at the age of 114 years, 271/272 days and was the oldest person ever from Puerto Rico until Emiliano Mercado del Torosurpassed her record. Before her verification in March 2004, Charlotte Benkner was recognized as the world's oldest living person.

She was born and grew up in Utuado, Puerto Rico. She was the eldest of 11 siblings, her sister lived to be 101 and her brother lived to be 100. At the time of her death, two of her sisters were still living, at the ages of 94 and 89. The older of these two sisters died in 2016 at the age of 106. She married Alfonso Alonzo-Soler in 1912, they never had any children but adopted Roberto Torres-Iglesias, who was 85 at the time of Iglesias-Jordan's death. The documentation for Iglesias-Jordan was inconsistent. The earliest record used to verify her age, a baptismal record from April 1890 stated that she had been born 31 August 1889. However, a recently discovered civil registration record from October 1889 states that she was born 1 September 1889. She also claimed birth on 1 September 1889.