Venere Pizzinato-Papo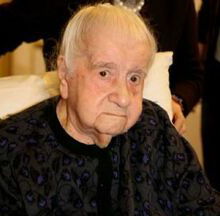 Date of birth: 23 November 1986
Date of death: 2 August 2011
Lifetime duration: 114 Years, 252 Days

Venere Pizzinato-Papo (23 November 1896 – 2 August 2011) was an Italian supercentenarian who was the oldest verified person from Italy, living to the age of 114 years, 252 days.[3] She was the world's third oldest living person. Pizzinato was also the oldest person ever to have been born in the Austro-Hungarian empire. At the time of her death she was the oldest person ever from Italy, a title she held until 13 December 2011 when she was surpassed by Dina Manfredini . She was born in Ala, Trentino, then part of the Austro-Hungarian empire, on 23 November 1896. In 1902 the family moved to Verona. In 1903, the family moved back to Trentino were Pizzinato attended a boarding school in its capital city, Trento. World War I forced Pizzinato to take refuge in Bazzano, Bologna.

After the war she moved back to Milan where she took Italian citizenship and met her future husband Isidoro Papo. During the outbreak of World War II, in 1939, the couple moved to Nice, France. They married in France, and after the war, they moved back to Milan. Upon retirement in 1964, the couple moved to Verona, where they finally settled. Mr. Papo died in 1981. The couple never had any children. Pizzinato remained in Verona for the rest of her life; at the time of her death, she lived in a retirement home there.