Delphine Gibson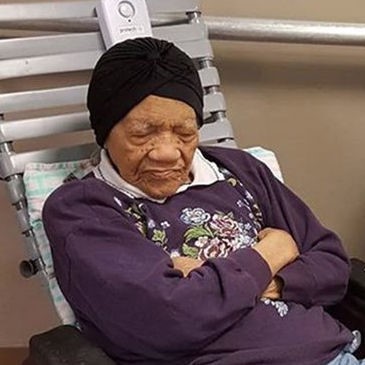 Lifetime Duration: 114 years, 265 days

Delphine Gibson (née Tucker; 17 August 1903 – 9 May 2018) was a validated American supercentenarian who was the oldest American resident at the time of her death. She was the last known surviving person in the USA born in 1903.

To honour Gibson's 112th birthday, the mayor of Huntingdon declared the week of her birthday as "Delphine Gibson Week". She credits her longevity to faith in God and says that her church plays an important role in her daily life. Her son Frank is her only remaining child.

Gibson became the oldest living person in the United States following the death of 114-year old Adele Dunlap on 5 February 2017 and the oldest living American citizen following the death of American emigrant Marie-Josephine Gaudette, who lived in Rome, Italy, on 13 July 2017. Gibson died on 9 May 2018 in Huntingdon, Pennsylvania, at the age of 114 years, 265 days.