James Edward Olmos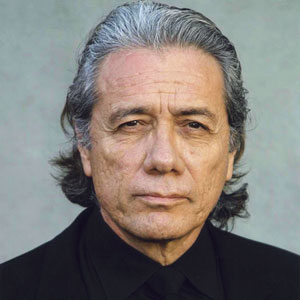 Sectors: Longevity Legends, Media and Publicity.

Edward James Olmos (born February 24, 1947) is an American actor, director, producer, and activist. He is best known for his roles as Lieutenant Martin "Marty" Castillo in Miami Vice (1984-1989), William Adama in the re-imagined Battlestar Galactica (2004-2009), teacher Jaime Escalante in Stand and Deliver (1988), and Detective Gaff in Blade Runner (1982), and its sequel Blade Runner 2049 (2017). In 2018, he played the father of a gang member in the FX series, Mayans MC.

Olmos has often been involved in social activism, especially that affecting the U.S. Hispanic community. During the 1992 Rodney King Riots in Los Angeles, Olmos went out with a broom and worked to get communities cleaned up and rebuilt. He also attended an Oprah episode relating to the L.A. riots as an audience member. In 1997, he co-founded the Los Angeles Latino International Film Festival with Marlene Dermer, George Hernandez and Kirk Whisler. That same year, he co-founded with Kirk Whisler the non-profit organization, Latino Literacy Now, that has produced Latino Book & Festivals around the US, attended by over 700,000 people.

He is also a supporter of SENS Research Foundation, a nonprofit organization dedicated to treating and curing diseases of aging by repairing the underlying damage caused by aging. A series of animations explaining the concept of SENS has been narrated by him.