Dor Skuler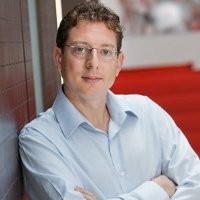 Dor Skuler is the CEO and co-founder of Intuition Robotics, a venture backed startup company currently in ""stealth mode"" developing an AI driven social robot companion. The company was founded by a proven team with the mission to dramatically improve a major issue in modern society. The company is supported by well known industry leaders and renowned industrial designers. It has developed key technologies in cognitive computing and are using the latest machine learning services to bring its product to market

Dor formerly served as Senior Vice President, General Manager of the CloudBand Business Unit at Alcatel-Lucent (NYSE:ALU) which he founded. CloudBand is a market leading platform for Network Virtualization (NFV). This business was credited as a major driver in Nokia's decision to acquire Alcatel-Lucent. Prior to this role Dor served as Vice President of Strategy and Head of Corporate Development for Alcatel-Lucent in its corporate headquarters in Paris. Previously Dor held entrepreneurial roles such as General Manager of Mobile Security, a new venture in Alcatel-Lucent's Bell Labs and Enterprise Business Divisions.

Prior to joining Alcatel-Lucent, Dor served as Vice-President of Business Development and Marketing at Safend, an endpoint security company. Dor also founded and served as President of Zing Interactive Media, a venture backed startup company in the field of mobile interactive media and NLP.

Dor Skuler holds a Master's of Science in Marketing and an MBA in International Business from Temple University.

Dor was selected to Global Telecom Business' "40 under 40" list in 2009, 2011 and 2013 and is often invited to speak in industry events and is interviewed by the global press.

Dor co-authored "Cloud Computing: Business Trends and Technologies" which was published by Wiley in 2016.