Etienne Cadestin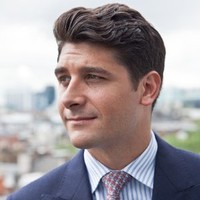 Etienne founded Longevity Partners in 2015. Prior to that, Etienne worked at Knight Frank, JLL and the United Nations Environment Programme (the leading global environmental authority that sets the global environmental agendas).

Etienne has more than a decade of experience in sustainable property investment and strategy. He currently advises the largest property investment companies in Europe.

This year, Etienne won the EG Awards in the category 'Future of Real Estate'. Before that, Etienne was picked to be an Estate Gazette's 'Property Rising Star' and nominated for numerous awards as one of the most active young leaders in the sustainability and real estate industries. He regularly speaks at high-level events, giving his vision for smart cities, carbon neutral buildings, wellbeing in the work place and the future of the real estate industry.

Etienne graduated from the London School of Economics. A keen sportsman, Etienne has run nine marathons and enjoys playing tennis, sailing, skiing, cycling and golf. He is married with one daughter.