Suthan Rajagopalan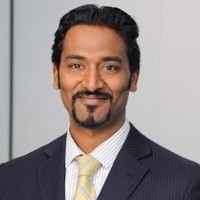 Suthan is a Fellow of the Institute and Faculty of Actuaries and is authorised by the Financial Services Authority to provide investment advice in relation to pension buyouts and buy-ins and longevity risk transfer.

Suthan is in Mercer's Financial Strategy Group, providing strategic investment and risk advice to trustee and corporate clients. He has 15 years of defined benefit (DB) pension fund experience across de-risking deals, actuarial and investment consultancy as well as administration.

Prior to re-joining Mercer in 2012, Suthan was a Sales Director in Legal & General's bulk purchase annuities business, leading pension fund transactions including their first longevity insurance deal and related reinsurance procurement in 2011 (£1bn Pilkington) and first buy-in with an inflation swap novation in 2009 (£220mn notional). Since then he has maintained close relationships with all leading longevity reinsurers.

Before this, he was a Vice President in Credit Suisse's insurance and pensions structuring group performing an advisory, sales and derivative structuring role for DB pension fund transactions including interest rate, inflation and longevity swaps.

Suthan has experience on liability driven investment objectives & strategy, investment manager structure, selection and monitoring. He qualified a Fellow of the Institute of Actuaries in 2003 and holds an MA in Mathematics from Oxford University.