Yvonne Sonsino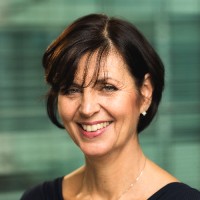 Yvonne rejoined Mercer in 2013, after six years out of the consulting industry working in senior HR roles in the Middle East and Europe. In her previous role in Mercer, Yvonne led the International Consulting Group in London, working with global companies on HR policy and programme design. Her role at Mercer is Innovation Leader for the Europac region, leading design projects in the areas of Health, Wealth and Careers. At present, she is leading major global projects around the future of work, jobs and skills, ageing populations, automation and process improvement, the design of agile / flexible working practices and EVP.

Yvonne was Co-Chair of the UK Government Department for Work and Pensions Fuller Working Lives Business Strategy Group, working with employers on achieving the right strategy to recruit, retain and retrain older workers. Her own first book, The New Rules of Living Longer, was published in November 2015, with a foreword from the UK Pensions Minister. Yvonne is an Advisory Board member of Transform Ageing.

She is a Fellow of The Pensions Management Institute and a previous author of their International Diploma syllabus. Yvonne has Masters Degrees in Psychology and Business Research, and in her spare time holds both Trustee and Director roles in Creative Arts organisations.