Aarif Khakoo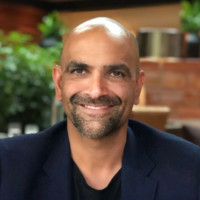 As Head of Drug Development, Dr. Khakoo leads early-stage development focusing on therapeutic candidate selection and pre-Investigational New Drug (IND) studies through Phase II clinical development.

Prior to joining Calico, Dr. Khakoo was Head of Translational Medicine at Amgen, leading a team conducting first in human through proof-of-concept studies across four main therapeutic areas: cardiometabolic, inflammation, neuroscience and oncology, as well as in vitro diagnostics and digital health. Prior to leading Translational Medicine, Dr. Khakoo was the Therapeutic Area Head for the Cardiovascular and Metabolic Discovery Research group at Amgen. During that time, his team discovered seven new molecular entities for the treatment of heart failure, atherosclerosis and obesity. Dr. Khakoo was also the Site Head of Amgen's South San Francisco site, a growing R&D campus of approximately 600 full-time employees with representation from all of Amgen's therapeutic areas. Prior to joining Amgen, Dr. Khakoo built a basic cardiovascular research laboratory at MD Anderson Cancer Center that explored the implications of clinically significant cardiac toxicities in patients treated with cancer therapies. Dr. Khakoo's experience as a bridge between basic research and early clinical development will be critical in translating the insights we gain in aging and age-related diseases into potential new therapies.

Dr. Khakoo maintains an academic appointment as an Adjunct Clinical Associate Professor at Stanford University, and is also a Member of the Scientific Advisory Council of the Lewis-Sigler Institute for Integrative Genomics at Princeton University. He earned his Bachelor of Science in Chemical Engineering (BSE) from Princeton University and his M.D. and MBA from Columbia University. He completed his medical residency and a cardiology fellowship at Johns Hopkins University School of Medicine and was a post-doctoral research fellow at the National Heart, Lung and Blood Institute.